"The Last Supper" is a Gregorian Chant? (yes.. well, probably)
This has been a puzzle I have worked on (on again, off again) for years. I recently revisited my theory about there being multiple "voices" encoded into the painting.
I had an ex-girlfriend who was a professional opera singer, well versed in "the modes of church music" as she'd refer to it. She opened my eyes to the aspect of Gregorian Chants. Because of her, it pushed me into a direction of learning about Gregorian chants, church modes, and a plethora of other information that has helped shape my theory on DaVinci's "The Last Supper" painting.
One of the revelations I had was about the Wine glasses and how the liquid in them almost produces the "square" notation used for Gregorian chant. When I superimposed a musical staff onto the painting, the liquid in the wine glasses lined up just too perfectly and looked a lot like "little squares".
I added color to each item to help distinguish it on the table. The wine glasses have had PURPLE overlaid.
The items lined up too perfectly. But it wasn't just the wine glasses–ALL of the items seemed to line up on the superimposed staff. And as explained before, the staff wasn't something that I "fit to" the notes. In fact, there were "painted wrinkles" in the table cloth that I used as my guides. It's like DaVinci painted in "training wheels" or "bumper lanes" for future-solvers to get a head start on the right path.
Again, my "theory" is that DaVinci "encoded" a "secret hymn" into his painting of "The Last Supper". I have done my fair share of scouring the Bible and any other related source to figure out WHICH hymn was sung. Doesn't that seem like something worth mentioning? We had descriptions of the food and such, but no mention of what was sung by the group. In previous posts, I've talked about "sound technology" and how frequency waves can be used to heal as well as harm. Take the story about the walls of Jericho for instance. When analyzed with a scientific eye, one could say that a resonant frequency was found & used to make the walls of Jericho crumble–just like an opera singer can shatter a wine glass with her voice. I've even pointed to ancient Egypt and the potential "sound healing chambers" that have been uncovered. Believe it or not, "sound therapy" is becoming more and more popular (again).
/Was this Hymn a special song that provided protection and healing? Was this Hymn specifically listed or mentioned before, but potentially removed or obfuscated during the Council of Nicaea? DaVinci was said to have special access to the secret catacombs under the Vatican, so did he discover something that the clergy had tried to cover up?
Ultimately, I had found 6 different items that looked suspiciously like points where notes could be encoded. Bread, plates, hands, wine, eyes, and feet. I started racking my brain trying to figure make connections between the 6 potential options, the 12 disciples, and everything I knew about super-old-timey music.
And then I had seen this…
6-note patterns called hexachords.
This re-sparked my interest into looking at this puzzle. It felt like I had found a "good reason" why there were 6 potential "markers" in the painting. Originally, Pala had talked about only 2–the bread and the hands. He referred to the hands being used in conjunction with the bread for reading each note.
I read about the Guidonian Hand and am pretty sure this is what Pala was referencing. Since he had found a "reason" for the hands in the painting, I don't think he searched any further into the image to recognize other objects as similar placeholders for notes. I don't think Guidonian Hand was "known" about in ~30 C.E., but it would have been understood by DaVinci in his time, so I can see why he may have considered it.
The Gregorian system isn't exactly like the Solfege one as far as hand positions, but this should give you a better idea of what Pala was referring to and why he may have considered this route.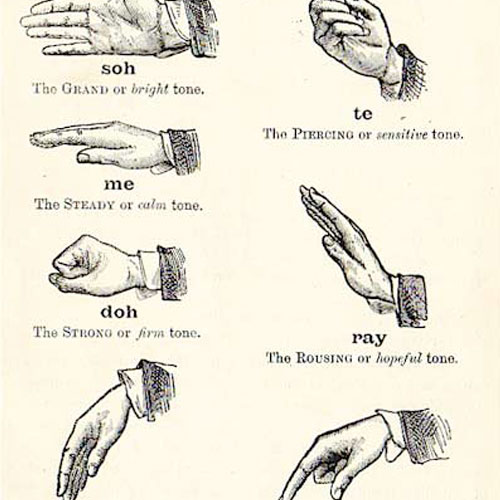 When I look through the painting, I recognize some of those hand signs, but I also see some hand positions that aren't shown anywhere (and just look like "normal gestures"). Granted, if I got creative, I could probably match up a sign for each hand, but I still lean toward the hands being a placeholder themselves, not a "modifier" for the notes of just the bread rolls.
I think originally not understanding the Guidonian system at all helped me to "overlook it" and try to find other interesting items. Because of this ignorance, I was able to pick out things like the plates, wine glasses, feet, and eyes as potential placeholders for notes. Then, once I superimposed the staff on them, they ALL fit. Perfectly. To me, this seemed significant. It seemed intentional. It would be a really, really, really incredible coincidence if DaVinci had painted all those things to line up so perfectly by accident.
I had tried to contact Giovanni Pala a couple years ago about my theory, but since he speaks Italian and I don't, it wasn't a very productive effort. I still feel like Hexachords are the key to solving "The Last Supper", but I'm not well versed enough in ancient music yet. Heck, when I hear a song from the 1960s I think it's old, so trying to absorb another ~2000 years worth of musical history to help make sense of this is a slow process.
Maybe I need to join the Church choir to see if I can glean some more useful info and pick the brains of their music director.
But until then…